Sie sind hier: Startseite >

Archiv >

2006/07 1. Halbjahr >

A report about Trevor Heeks
(The town crier of Trowbridge, the twin town of Leer)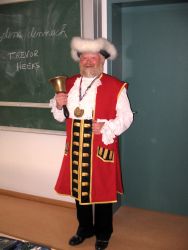 On Tuesday, the 5th October, Trevor Heeks came to the TGG for an interview. He visited class 7en to answer our questions and to tell us about Trowbridge and himself. This is a report of that interview.
Leer is like his second home, because he has already been here very often. At the Ostfrieslandschau he sold strong English beer at the Trowbridge stand. He was at the Gallimarkt and he liked the Big Wheel most. Last Christmas he got 277 Christmas cards. He can shout very loudly (sound bite). The loudness of his voice has been measured. The result was 109dB. A second measurement of his voice in Australia showed 99dB in a distance of 54 metres. Maybe he is the World Champion. Trevor's ancestors came from Belgium a long time ago. They had a sheep farm there. His wife and one of his daughters are teachers. He has got six brothers and sisters and two dogs. He likes to eat steaks and his hobbies are working with flowers, watching rugby matches and even being a town crier. He has got 4 regalia for his job. They look like the army uniforms of Trowbridge (see the photo of Trevor with his working uniform). When he was a child he walked along with the old town crier, the father of his best friend. When the old town crier died, he got his job.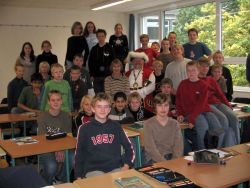 Some time ago the economy wasn't very good in Trowbridge. Now there is a company, Apetito, that makes food for the microwave. Near Trowbridge there is Stonehenge, that is a circle of huge stones. Many people want to look at it, because nobody knows from where the stones came. On one of them is a horse. And there is a second sight in Trowbridge, an animal park.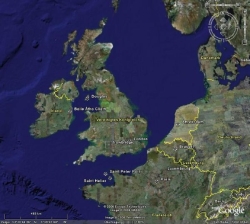 In Trowbridge live about 30,000 people. The distance of Trowbridge and Bristol is only 20 miles. The scenery is hilly, so there are 22 sluices. But in Trowbridge there is only a harbour for private boats, no industrial harbour and no airport. Not long ago Trowbridge wasn't been the twin town of Leer, because the twinning charter was only signed in 1989. The swimming club Poseidon often goes to Trowbridge and was in Trowbridge for a competition last year. The next competition will be in Leer. In Trowbridge there are two big schools: The John of Gaunt School and The Cearendon School. In each school there are about 1200 pupils. And there is another school, the catholic school St. Augustines.
It was very interesting to interview Trevor Heeks. Thank you very much.
Feiko Nanninga (7en)
2006-12-20, sh