Sie sind hier: Startseite >

Projekte >

Work Experience 2011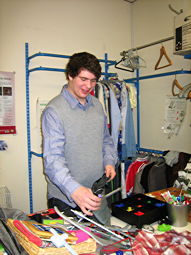 Simon – Oxfam Shop
On February 2nd, and after a long journey we arrived in Bromley, Kent, not far away from London. Our host families were waiting for us at Langley Park School in Beckenham to take us to their homes. Then we drove home and I met my whole family: Myles (my exchange-partner), his mother, father and two little cute sisters (of course, the family cat too!) I talked with them about many things: food, school types and hobbies. All the members of my host family were so nice! The next day I started my work-experience in Perry Hall Primary School. My tutor and my class were really friendly. Two of the pupils showed me the whole school: the classrooms, the school garden as well as the playground. I learned a lot there about how to work with and how to teach little children.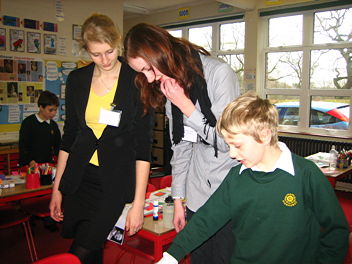 Theresa & Silke – Pickhurst Primary School
But that was not all I did. One evening we went to "Dizzy's Diner" in order to eat something with the other German students and we saw the musical "Wicked" in London. That was excellent, we all loved it. Not to forget going shopping in London, which was wonderful. For example, we haggled with a trader in Oxford Street - that was really funny, and went by underground to other shopping areas. Sightseeing was so fascinating! Before our trip to London we all knew what the "London Eye" or the "Big Ben" looked like, but when we were standing right next to the "London Eye" we were really amazed. All of a sudden, everything was so real.
All in all I/we had a really great time in London and my/our English has got a lot better!
Text: Bianca Brandau, 10c / Fotos: Ulrike Pahl
2011-03-10, jb